I love getting letters, who doesn't? A letter is like a little hug via your mail box.
Few of my pen pal's like to play Mail-Tag.
What is Mail Tag?
It is a lot of fun. I love the idea what people come up with. Typically I give people 3 to 5 'tags' to do.
A Tag is anything postal friendly you can come up with. And everything is open to interpretation.
Bianca from Goodnight Little Spoon
did a
little thing on mail tag too
. :). My Pen Pal Bree got me into mail tag. And I love it. It's fun to try and out do your self from the last time, and come up with bigger and better things. And it can be a specific or not as you want.
Plus, it's LetterMo guys!
I also joined up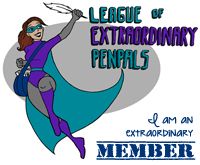 It's only the first Month, but it's super cool.

Happy Mail People!