Hey Guys!
Weekly tea! :D
Last Week:
Wednesday: (7-14)
Frutto Blanco Pearls mixed with Precious White Peach. Also, a little nick nack my Mom got me :). It was a good tea. I put a little agave in it.
Twinings Earl Grey. I bought it for the BF. And it still was just 'ok.' tea. So, I took it back. Lol. D:. It's good tea for bagged stuff! I think.
This week.
Thursday:
Earl Grey Late from Starbucjs. Also got a Jimmy John's Vito for a dolla! (Dolla's make me Holla~! (Sweet Jesus, Honey Boo Boo)). It was good. I love Starbucks's tea. Tazo <3 br="br" nbsp="nbsp"> 3>
Friday:
I got something quick at Meijers before we went off to Ohio. :). It's ok. I'ts got High Fructose Corn Syrup. So, Snapple really isn't 'made from the best stuff on Earth'. Just Sayin'.
Sunday:
Coming home. This stuff is seriously the best. I love love love Peace tea. Peace tea and Sweet Leaf. Screw the rest of the pre-made crap.
Monday:
Mint-Chilla Chai-Nilla from The Spice and Tea Exchange. :). Good stuff. I love The Spice and Tea Exchange stuff. I just wish one was closer! I should have *should have* made this a late. But, it was good with just some cinnamon agave.
Tuesday:
Mom and I made some Lemon Ginger with Cold Brew tea. I put some honey in it. And it's really good. It's settling my tummy too, with a caffeine bonus.
What have you been brewing lately?
Join the Tea Party and link up!
Rules:
Post this some where on your blog: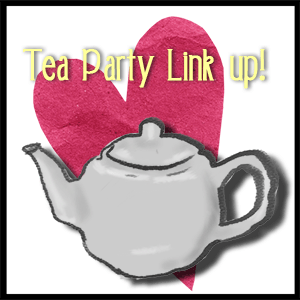 GFC me!
Then add your link! :)